WOODMANSTERNE PRIMARY SCHOOL
Carshalton Road, Banstead, Surrey SM7 3HU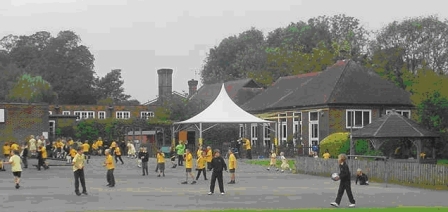 Aims
To discover, develop and celebrate the potential in every child

To prepare children for the future through exciting learning and excellence in teaching

To enable children to learn confidently in a safe, happy and healthy environment

To build partnerships with families and the community
About Us
Woodmansterne Primary School is situated on the North Downs in the heart of the green belt with uninterrupted
views across London. The school's catchment area is largely centred on the village of Woodmansterne but it also
includes Chipstead, Hooley and Netherne to the east and neighbouring London boroughs.
Contact Details
Head Teacher: Ms C Welch
Woodmansterne Primary School, Carshalton Road, Banstead, Surrey SM7 3HU
Tel: 01737 353120 Fax: 01737 366772
school@woodmansterne.surrey.sch.uk School Office: admin@woodmansterne.surrey.sch.uk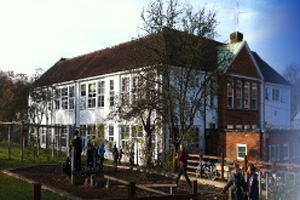 CHIPSTEAD VALLEY PRIMARY SCHOOL and CHILDREN'S CENTRE
Federated with Coulsdon Nursery School
Aims
Vision 2015 is our mission statement for all stakeholders in the school and is broken down into four areas:
Standards and Achievements
Care
Provision
Partnership and Community
About Us
Chipstead Valley Primary School is located in superb grounds and has excellent facilities both inside and out.
These include a swimming pool, mini-gym, cycle track, outdoor classroom, woodland, orchard areas and an
extensive growing area cultivated by staff and children. There is also a children's centre on site which services
the needs of many local families.
Contact Details
Head Teacher: Mark Rosewell
Chipstead Valley Primary School, Chipstead Valley Road, Coulsdon, Surrey CR5 3BW
Tel: 01737 553255 Fax: 01737 553657
School Office: office@chipstead.croydon.sch.uk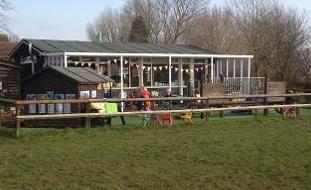 WOODMANSTERNE VILLAGE PRESCHOOL is set in the grounds of the local Primary school although it is not
connected in any way. Their classroom is a secure unit with its own private garden and has artificial grass and a
covered outdoor area and operates on a higher than recommended ratio of staff:children. They provide care and
education for children between the ages of 2 and 5 (although usually they would start the year before school).
They have 22 children each year, who attend 5 mornings (9am-12pm) from September to July with the usual
school holidays.
Please see website for more information on how they deliver their care and education through the Early Years
Foundation Stage (EYFS).

Contact Details:

Manager: Lara Bland Tel: 01737 363423
Woodmansterne Village PreSchool, Carshalton Road, Banstead, Surrey SM7 3HU

woodmansternepreschool@hotmail.co.uk www.woodmansternepreschool.moonfruit.com